Day 2 :
Keynote Forum
UT Health Science Center at Houston, USA
Time : 10:05-10:45

Biography:
Mandy J Hill is a trained Clinical Researcher. She has advanced a prevention-based public health agenda within a clinical environment. Her academic portfolio to date has demonstrated feasibility of HIV prevention through formative intervention work that is designed to meet the people where they are, including the emergency department. Her current research agenda is to adapt efficacious interventions to varied settings where vulnerable populations at especially high risk for HIV infection can be accessed. She has published 22 peer reviewed manuscripts, 10 she first authored in diverse areas addressing health disparities among minority populations, coupled national and international presentations and extramural funding support from the CDC and the NIH through the American Psychological Association and Centers for AIDS Research, as well as industry sponsored research. In summary, her expertise includes randomized clinical trial development and implementation, and integrating public health-based prevention research into varied settings that include the emergency department.
Abstract:
Statement of the Problem: The HIV epidemic in the US continues to disproportionately affect the health of young, African American women. The focus here is on predictors of sexual scripts, which are roadmaps to sexual decision making. The objective is to examine life experiences, normative beliefs, and cultural predictors of sexual scripts that place young, sexuallyactive, substance-using, African American women (YSSAAW), a population with significant vulnerability to HIV, at even greater risk of becoming HIV positive.
Methodology & Theoretical Orientation: Face-to-face, tablet-assisted, semi-structured interviews were conducted with 30 YSSAAW in a private or public emergency department in Houston, TX, USA. Interviews were professionally transcribed,
then coded by a trained 3-member coding team. One interview was used to create the codebook. Codes were organized into primary themes during face-to-face meetings. Inter-coder reliability was assessed and confirmed using Cohen's Kappa statistics, demonstrating a nearly perfect agreement between coders 1 and 2 (K=0.93).
Findings: Three primary themes were described as predictors of sexual scripts: emotional wounds, norms and decision making. Prevalent codes among YSSAAW within the emotional wounds theme included infidelity (43.33%) and parental dynamics (56.67%). Under the norms theme, we found 66.7% of YSSAAW discussed their communication norms and 30% disclosed cultural norms. Within the sexual decision making theme, we gained relevant information and implications on relationship longevity and having an STI history among 46.67% of the sample.
Conclusion & Significance: Primary predictors of high risk sex revealed sexual scripts that demonstrated gender-based power differentials; thereby, supporting utility of a theoretical framework that includes the Sexual Script Theory and the Theory of Gender and Power. The logic model illustrates how emotional wounds from life experiences (i.e., trauma, abuse, abandonment) and socially acceptable norms establishes the sexual script of YSSAAW; whereby, high risk sex is the most likely outcome relative to prevention strategies.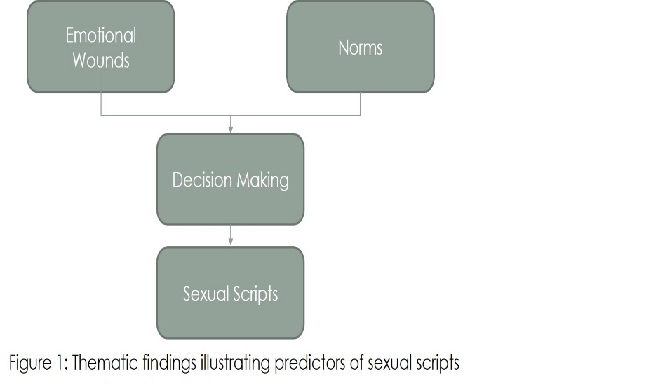 Keynote Forum
Senior Scientist, UK
Time : 11:00-11:40

Biography:
Sarah Joseph has a background in the immunology of infectious diseases living and working in Africa on schistosomiasis, TB and malaria. She joined the MRC Clinical Trials Unit at UCL in 2008 as an Epidemiologist in HIV prevention, focusing on a range of Phase I/II HIV vaccine trials. In June 2017, she joined the International AIDS Vaccine Initiative.
Abstract:
We have been exploring vaccination strategies employing DNA, pox and adjuvanted envelope protein in an effort to optimize immunogenicity in the context of overall feasibility. We assessed the impact of combining MVA-C and GLA adjuvanted gp140 after DNA-C priming; giving them together or sequentially to healthy HIV-uninfected adults. We expected Env-specific antibodies in 100%, hypothesized that Env-specific CD4+ T-cells might induce functional antibodies and that combining vaccines, shortening the schedule by 8 weeks would not compromise safety or immunogenicity. 40 volunteers were recruited at 2 UK sites, given 3 IM doses of DNA plasmids encoding env and gag-pol-nef at weeks 0/4/8, then 2 doses of MVA IM (encoding env and gag-pol-nef) and 2 of recombinant CN54gp140 protein with GLA-AF; randomized to receive these during the same visit at weeks 16/20 (accelerated) or sequentially at weeks 16/20/24/28 (standard). Primary outcomes included ≥ grade 3 safety events and a four-fold difference in CN54gp140-specific binding IgG. 2 participants experienced ≥ grade 3 asymptomatic raised liver enzymes leading to discontinuation of vaccinations. 100% made CN54gp140 IgG, but combining vaccines did not significantly alter the response. Neutralization of a tier 1 pseudovirus was superior in the standard group, T-cell ELISPOT responses were CD4 and Env-dominant and comparable; 85% and 82.4% responded in the accelerated and standard groups, but poly-functional T-cells appeared less frequent in the accelerated group. Combining MVA and gp140/ GLA-AF shortened the schedule by 8 weeks without impacting the titer of gp140-specific antibodies. Neutralizing antibody responses were modest despite the induction of Env-specific CD4+ T-cells and inferior in the accelerated group. There was also a trend toward lower T-cell responses in the accelerated group, although it remains possible that the timing of vaccinations was not optimal. Results will be discussed in the context of other relevant trials.
HIV/AIDS, STDs & STIs - testing
Session Introduction
BMCRI, India

Biography:
Nagesh Wadgera is a MBBS student at the Bangalore Medical College and Research Institute. His research interest focuses on HIV and related topics. As a part of Short Term Studentship Program of ICMR, he has done a project under the guidance of Dr. Kala Yadhav.
Abstract:
Opportunistic infections account for the majority of death in untreated patients with AIDS. CRP is a highly sensitive marker of infection and inflammation and its level increase with infection. The present study was undertaken among 100 HIV+ patients, at ART Center Victoria Hospital, Bangalore. With the informed consent of the patient, a generalized pro forma was filled up consisting of patient's clinical presentation and diagnosis. Their CRP level and CD4 count were measured. 56 HIV+ patients were asymptomatic and acted as control giving a negative test for CRP (<6 mg/l), showing no base line rise in CRP. Patients with infectious diagnosis showed a positive test for CRP, while patients on treatment were negative. Among the infectious cases, bacterial infection showed high level of CRP (mean 32 mg/l) compared to viral/fungal infection (mean 9 mg/l). Combinations of opportunistic infections produced a high level of CRP (mean 45 mg/l). A graph of CRP along x-axis and CD4 count along Y-axis were plotted which showed a negative correlation (r=-0.2324, p<0.01 and lzl=2.40). From the graph, the CRP level at which ART can be started is >92.413 mg/l [taking <200 (cells/μl) as the CD4 count at which ART is started]. Patients showing negative test for CRP need not be started with ART, as their CD4 count is found to be approximately 329 cells/μl. CRP level in HIV patients has a prognostic significance and can be used as an early marker of Opportunistic infections.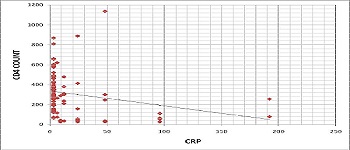 University of North Texas HSC, USA

Biography:
John A Schetz is a Professor of Pharmacology, Neuroscience and Medical Education with a penchant for advancing knowledge and addressing societal needs by solving problems and answering questions of relevance to medicine. His translational research efforts are focused on elucidating mechanisms of drug action and the discovery and development of innovative agents for preventing or treating neurological and psychiatric conditions. He serves on national and international grant review panels and his research has been published in reputed journals and featured in print, radio and televised media reports. His collaborative team pioneered an understanding of the molecular mechanistic underpinnings of adverse neuropsychiatric events associated with the HIV-1 antiretroviral medication efavirenz when taken as prescribed, and its attractiveness as a recreational drug when smoked.
Abstract:
Anti-HIV pharmacotherapies currently remain centralized around HAART. Since its introduction in 1998, efavirenz has been a mainstay of HAART, because it efficaciously suppresses HIV-1, and while it was recently downgraded by DHHS from a first line to an alternative treatment for naïve patients due to neuropsychiatric adverse events (NPAE), both WHO and South African guidelines continue to recommend efavirenz as the preferred NNRTI for HAART in adults and its popularity is likely to continue now that generic forms are becoming available. Only recently, however, has significant progress been made toward a molecular mechanistic appreciation of efavirenz-mediated NPAEs and its attractiveness as a recreational drug. Contributing factors for efavirenz are its ability to rapidly accumulate in brain and a narrow therapeutic window. Our receptor pharmacology studies indicate that within a concentration range relevant to its brain exposure, efavirenz is able to disrupt multiple monoamine neurotransmitter systems, including dopaminergic, serotoninergic, cholinergic, and GABAergic systems, hence its combined effects on these systems is likely to be responsible for some of efavirenz's NPAEs, such as sleep disturbances, depression, anxiety, hallucinations, dizziness, headaches and memory impairments. Within a concentration range relevant to its brain exposure, a number of CNS off-target interactions for efavirenz were identified, including with the 5-HT2A, 5-HT2C, 5-HT3, 5-HT6, M1, M3 and GABAA receptors, DAT, SERT, and VMAT2 transporters, and MAO-A. In rats trained to discriminate LSD from saline, efavirenz partially substitutes for LSD and this substitution is blocked by pre-treatment with a 5-HT2A receptor selective antagonist. Efavirenz also apparently competes for the same binding site at the 5-HT2A receptor as LSD, and prolonged chronic treatment with efavirenz leads to a pronounced reduction in 5-HT2A receptor levels. Finding from our receptor pharmacology studies with those in animals and humans correlate primarily with behavioral effects related to depressive, anxiogenic, hallucinogenic, and sleep disturbances.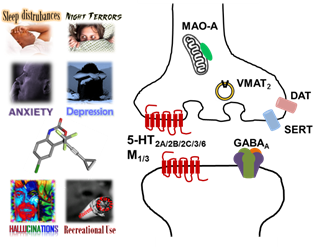 King Fahad Medical City, Saudi Arabia
Biography:
Al-Jaroudi D is an Assistant Professor, King Saud Bin Abdulaziz University for Health Sciences. He is a Chairperson of Reproductive Endocrinology and Infertility department and Medical Forms Subcommittee, Reproductive Endocrinology and Infertility Medicine department, King Fahad Medical City.
Abstract:
Objectives: In infertile couples receiving assisted reproduction, hepatitis B virus (HBV), hepatitis C virus (HCV) and HIV may pose a risk to patients, health care providers and fetuses through cross contamination of biological material. This study aimed at determining the prevalence of HBV, HCV and HIV in a group of infertile couples attending a tertiary care facility in Saudi
Arabia.
Materials & Methods: A retrospective cross-sectional observational study was performed by reviewing medical records of 500 couples i.e. 1000 individual patients enrolled between 2006 and 2008. 38 records had incomplete data and were excluded from the study leaving a total of 462 couples. All patients were screened for HBV markers (HBsAg, AntiHBs, AntiHBc and AntiHBe), anti-HCV, anti-HIV type I and II using ELISA technique. Main Outcome Measures: Prevalence of HBV, HCV, and HIV in infertile Saudi couples.
Results: The overall prevalence of HBV in the population studied was 1.8% (17/924). For females HBV prevalence was 1.5% (7/462), and for males it was 2.1% (10/462). Overall HCV prevalence in this group was 0.5%. All females were negative for HCV while males had a prevalence of 1.1% (5/462). All males and females were negative for HIV.
Conclusion: This study reports a high prevalence for HBV and HCV in a group of Saudi infertile population. HIV prevalence was found to be 0%. Due to the risks of cross sectional and vertical transmission of these infections and despite the low incidence of HIV infection and the cost implications it is important to screen all Saudi infertile couples for these infections prior to embarking on fertility treatments.
Biography:
Ssenfuma Ronnie is a PhD Research Student at Makerere University School of Public Health. His area of research is HIV/AIDs and has done his PhD research entitled as "Demand creation for couples' HIV counseling and testing among married or cohabiting individuals in Rakai, Uganda: Trends, Motivations, barriers and intervention outcomes". He also works as an Assistant Lecturer/Research Associate at Makerere University.
Abstract:
Uptake of couples' HIV counseling and testing (couples' HCT) services remains largely low in most settings. We report the effect of a demand-creation intervention trial on couples' HCT uptake among married or cohabiting individuals who had never received couples' HCT. This was a cluster-randomized intervention trial implemented in three study regions with differing
HIV prevalence levels (range: 9-43%) in Rakai district, Southwestern Uganda, between February 2014 and September 2014. We randomly assigned six clusters (1:1) to receive the intervention or serve as the comparison arm using computer-generated random numbers. In the intervention clusters, individuals attended small group, couple and male-focused interactive sessions, reinforced with testimonies from 'expert couples', and received invitation coupons to test together with their partners at designated health facilities. In the comparison clusters, participants attended general adult health education sessions but received no invitation coupons. The primary outcome was couples' HCT uptake, measured 12 months post-baseline. Baseline data were collected between November 2013 and February 2014 while follow-up data were collected between March and April 2015. We conducted intention-to-treat analysis using a mixed effects Poisson regression model to assess for differences in couples' HCT uptake between the intervention and comparison clusters. Data analysis was conducted using STATA statistical software, version 14.1. Of 2135 married or cohabiting individuals interviewed at baseline, 42% (n=846) had ever received couples' HCT. Of those who had never received couples' HCT (n=1,174), 697 were interviewed in the intervention clusters while 477 were interviewed in the comparison clusters. 73.6 % (n=513) of those interviewed in the intervention and 82.6% (n=394) of those interviewed in the comparison cluster were interviewed at follow-up. Of those interviewed, 72.3% (n=371) in the intervention and 65.2% (n=257) in the comparison clusters received HCT. Couples' HCT uptake was higher in the intervention than in the comparison clusters (20.3% versus 13.7%; adjusted prevalence ratio (aPR)=1.43, 95% CI: 1.02, 2.01, P=0.04). Our findings show that a small group, couple and male-focused, demand-creation intervention reinforced with testimonies from 'expert couples', improved uptake of couples' HCT in this rural setting.
Philippine General Hospital, Philippines
Biography:
Everly Faith Ramos is a third year medical resident at the Philippine General Hospital. She obtained her Doctor of Medicine degree from the Uinveristy of the Philippines College of Medicine. She has previously published research studies in the Asian Journal of Biology Education and Acta Madica Philippina.
Abstract:
Background: Typhoid fever remains to be an important cause of life threatening illness in the developing world. Neuropsychiatric manifestations of Salmonella infection have been described in case reports and case series. Infection with the HIV is a rising epidemic worldwide. Its presence can lead to altered clinical presentation of disease among patients.
Case presentation: We report a case of a 32 year-old Filipino male who developed acute onset febrile illness, with temperatures ranging from 38-39ºC associated with acute psychosis. He was admitted to our hospital on June 25, 2015 on his fourth day of illness. The patient was received awake, disoriented to person, place and time. He had a BP of 110/70 mmHg, regular pulse rate
of 112 and temperature of 38.6ºC. The physical examination only showed oral thrush, seborrheic dermatitis on the face and scalp. There were no abdominal tenderness, hepatomegaly generalized rash and focal neurologic deficit. The patient had supple neck. The initial assessment was bacterial and viral meningitis and septic encephalopathy. Laboratory investigations showed
anemia with a normal leukocyte count, elevated creatinine at 141 mol/L. The chest X-ray and urinalysis showed no infection. Cranial CT scan and cerebrospinal fluid studies were normal. The patient tested positive in the HIV confirmatory test. He was empirically treated with ceftriaxone 2 gm IV 12 hourly and acyclovir 700 mg IV 8 hourly. On the fourth hospital day, the blood
culture revealed Salmonella typhi sensitive to ceftriaxone. Acyclovir was discontinued and the ceftriaxone was reduced to nonmeningitis dose. The patient defervesced on day four of ceftriaxone and had improved sensorium on day six of antibiotics. The patient was discharged improved.
Discussion: We present a case of typhoid fever presenting as acute psychosis in a HIV patient. Salmonella infection remains a common the developing world. The mechanism by which it causes neuropsychiatric disorder is not yet known. In the time of HIV epidemic, diseases may have an altered spectrum of presentation. Physicians should keep in mind the full spectrum of disease manifestations and a high index of suspicion in order to arrive at the proper diagnosis and management.