Recommended Global Infectious Diseases Conferences
STD Asia Pacific Congress 2019
About Conference
Welcome to STD Asia Pacific Congress 2019 !!!
On behalf of
STD Asia Pacific Congress 2019,
we take immense pleasure in inviting all the participants over the world to attend the "
9th Asia Pacific STD and Infectious Diseases Congress
"(
STD Asia pacific 2019
)which will be held during
October 21-22, 2019
at
Tokyo Japan
with the theme "
Advancements, Novel approaches for prevention & control of STD and Infectious Diseases
".
Why to attend?
The present research on Emerging technologies and Strategies, Prevention and advanced Diagnosis, improvements, the most current updates in HIV, AIDS, STD and infectious diseases are hallmarks of this Conference. Lead introductions, disseminate data, foster networking with present and potential specialists, make a splash with latest improvements, and participation acknowledgment at this II day occasion.
STD Asia Pacific Congress 2019
makes you move, learn and embrace better approaches to enhance Medical professional career prospects.
Key Reasons:
World Class Speakers and Emerging new Talent from across the Globe in Health Industry

Packed Schedule: Workshops, Multi-track Conference, Expo area and more

To educate yourself on the diagnosis and treatment of STD and Infectious diseases.

To enhance your ability to treat the growing number of patients affected by these diseases.

To network with your fellow primary care clinicians.

To empower yourself to fill the void created by the national shortage of participants.
Target Audience:
Medical Professionals & Physicians

Nurse-practitioners & Pharmacists

Psychologists & Abuse, Behavioral specialists

Infectious diseases doctors & Public Health care Researchers

Social workers, AIDS service organization (ASO) staff

National government agencies and consultants

Epidemiologists, Bacteriologist, Retro-virologists, Microbiologists, Oncologists

Geneticist, Gynaecologists, Clinical experts

Business experts / Manufactures & suppliers/ Aspiring Entrepreneurs, Sales Manager.

Media partners and Collaborators

International Delegates and global observers

Students and Young Researchers.
STD Congress 2019 Conference Unique Opportunities
For Researchers and Faculty Members:
Speaker Presentations
Poster Display
Symposium hosting (4-5-member team)
Workshop organizing
For Universities, Associations & Societies:
Association Partnering
Collaboration proposals
Academic Partnering
Group Participation
For Students and Research Scholars:
Poster Competition (Winner will receive Best Poster Award)
Young Researcher Forum (YRF Award to the best presenter)
Student Attendee
Group Registrations
For Business Delegates:
Speaker Presentations
Symposium hosting
Book Launch event
Networking opportunities
Audience participation
For Business Entities :
Exhibitor and Vendor Booths
Sponsorship opportunities
Product launch
Workshop organizing
Scientific Partnering
Marketing and Networking with clients
STD Asia Pacific Congress 2019
is the reputed conference which aims to provide best platform to explore the emerging strategies for the prevention and treatment of sexually transmitted diseases.
All accepted abstracts will be published in respective Scientific International Journals. Abstracts will be provided with Digital Object Identifier Cross reference. Selected contributions will be published in following subject related international Journals
Journal of AIDS & Clinical Research

Journal of HIV & Retro Virus

Journal of Primary & Acquired Immunodeficiency Research

Journal of Antivirals and Antiretroviral

Journal of Infectious Diseases & Therapy
Join us for a symphony of outstanding science, and enjoy the spectacular and unique beauty of Tokyo, Japan.
Sessions/Tracks
The term 'Sexually Transmitted Diseases' (curtailed STDs) alludes to a cluster of sicknesses that can be transmitted beginning with one individual then onto the following through the sharing of body liquids including discharge, vaginal liquids, blood, and distinctive fluids. They have a wide range of causes (counting microscopic organisms & Infections), they deliver an assortment of manifestations (or nonattendance of side effects), and they have altogether different impacts on the body when left untreated which is specified as STD symptoms. There are various types of STDs from benign to malignant and harmful ones. Nearly twenty various infections are known to be transmitted through sexual contacts. Most Sexually Transmitted Diseases affect both men and women, but in most of the cases the health problems they cause can be more severe for women. If a pregnant woman has an STD, it can cause consequential health problems for the baby.
Exposure of susceptible to infected individuals can be influenced through counselling of patients to reduce early sexual debut and concurrent sexual partners, and to promote the performance of safer sexual activities, including:
· Non-penetrative sexual acts
· Consistent and correct use of condom
Frequency of infection | antimicrobial resistance patterns | clinical presentation | Assessing risk | treatment regimens| Casual sexual relationships | long-term complications | Human Papilloma Virus (HPV)
Vertical transmission alos known as Prevention of Mother-To-Child Transmission (PMTCT) it is passage of a disease-causing agent (pathogen) from mother to baby during the period immediately before and after birth. Transmission might occur across the placenta, in the breast milk, or through direct contact during or after birth. For example, HIV can be a vertically transmitted pathogen. Also known as perinatal transmission.The rate of Developing Infectious Diseases is quickly expanding or debilitates to increment sooner rather than later. The ascent of new irresistible sicknesses or the re-development of the old irresistible ailments is supported by numerous components like advancement of the pathogens, human behavior and practice.
The three phases of HIV infection are:
(1) Acute HIV infection,
(2) Clinical latency, and
(3) AIDS (Acquired Immunodeficiency Syndrome)
Developing Infectious Diseases are those whose rate or the geographic range is fast expanding or debilitates to increment sooner rather than later. The ascent of new irresistible sicknesses or the re-development of the old irresistible ailments is supported by numerous components like advancement of the pathogens, human behavior and practice.
Reproductive Infectious Disease is a subspecialty of Obstetrics & Gynecology that deals mainly with infections of women. These may be infections of the reproductive tract, infections during pregnancy, or any other infections that affect the life and well-being of women. Health care practitioners strives to provide the latest evidence-based treatments to women suffering from infectious diseases or related complications. In addition to providing care to women with HIV in pregnancy and beyond, the treatment for complicated or unusual post-operative infections, pelvic infections, and sexually transmitted infections.
Children are often at an increased risk for certain conditions while their immune systems are still developing. Because diagnosis and care for an infectious disease can be complex, it is important for the diagnose accurately and treat the child's condition. Children's comprehensive services providers include care for children with infectious diseases and epidemiological tracking that, for contagious conditions, helps limit the spread of infection and prevent further outbreaks like Bone and joint infections, Fever of unknown origins, HIV/AIDS, Infectious mononucleosis, Influenza, Lyme disease Meningitis, MRSA (methicillin-resistant staphylococcus aureus), Respiratory syncytial virus (RSV) Staph infections, Tuberculosis.
Best Care For Children
Children are not just small adults, their bodies are growing and have unique medical needs. They usually express their concerns differently than adults do. They cannot always answer medical questions, and are not always able to be patient and cooperative. Pediatric infectious diseases specialists know how to examine and treat children in a way that makes them relaxed and cooperative. They understand the unique signs, symptoms, treatments, outcomes/prognoses associated with infectious diseases in children, which can be quite different from those of adults with such infections.
Track 14 : Immunology of Infectious Diseases
The immune system is the host defence system composed of many biological structures and processes within an organism which protects against disease
Despite whether compelling ailment administrator is the"old partner" or another, creating hazardous, the sheltered system's battle against it is normally the principal line of immune resistance. The safe response is the best way to destroy the irresistible illness when the drug is inaccessible.
Market Analysis
STD Asia Pacific Congress 2019
conference is the global leading event which was held between continents and is organized in collaboration with regional STD and Infectious Diseases societies with the innovative theme
"Advancements, Novel approaches for prevention & control of STD and Infectious Diseases"
Scope and Importance of STD & Infectious disease Research
According to recent statistical it was reported the abrupt increase in the death case studies was due to spread of infectious diseases and this infection and spreading could be prevented with the help of Health care professionals. Contamination aversion and control measures expect to guarantee the assurance of the individuals who may be powerless against procuring a disease. STDs are an important global health priority because of their devastating impact on women and infants and their inter-relationships with
HIV/AIDS
. STDs and HIV are linked by biological interactions in which infections can occur in the same populations. Infection with certain STDs can increase the risk of getting and transmitting HIV as well as alter the way the disease progresses. In addition, STDs can cause long-term health problems, particularly in women and infants. Some of the health complications that arise from STDs include pelvic inflammatory disease, infertility, tubal or ectopic pregnancy, cervical cancer, and perinatal or congenital infections in infants born to infected mothers. The global concerns of sexually transmitted infections (STIs) remains at the higher edge.
Why Japan?
HIV/AIDS has been a global phenomenon due to the delay in the research, development and health care sector. The reported number of cases for the HIV in females of Japan is 459 and 169 for AIDS science the beginning of surveillance in 1984 through the end of 2003 where most of them are affected by heterosexual contact. The rate of the number of people diagnosed with HIV/AIDS is increasing with 30 people annually.
Examining data by age group, there is a drastic increase among young people. In the age group 15-24, female HIV/AIDS cases exceed males (70.6% of ages 15-19 and 55.1% of ages 20-24 in HIV reported cases are female. These age groups are distinctive from other age groups where the majority is male). HIV positive pregnant women make up less than 1% of the total number in the report, but some data suggests that a higher rate is expected than that of non-pregnant women in some regions. In these situations, prevention measures for young people are considered to be a top priority.
Increase in the Global STD diagnostics market, by types, 2012-2022, (USD Billion)
In STD Asia Pacific 2018 conference has been fostering the need to control the impact of permanent Sexually transmitted infections within the public health environment. The STD diagnostics industry is estimated to experience growth majorly due to rising prevalence of various infections such as chlamydia, syphilis, gonorrhea, herpes simplex virus, human papilloma virus, human immunodeficiency virus, chancroid, and other infections including trichomonas vaginalis and vaginitis.
Bacterial STIs include gonorrhea, chlamydia, and syphilis while viral STIs include genital herpes, HIV, genital warts (HPV), and hepatitis. The microorganisms causing STIs reside in blood, semen, and vaginal fluid. STDs caused by chlamydia dominated the overall market in terms of revenue and was valued at around USD 6.00 billion in 2014. However, diagnosis of sexually transmitted diseases caused by syphilis is rising and is estimated to account for over 20% of the market by 2022, growing at a healthy CAGR over the forecast period due to increasing prevalence of syphilis infections worldwide.
Statistics of Marketers, Researchers working on STD and infectious diseases
Case report for curable STD :
In 2012, there were an estimated 357 million new infections (roughly 1 million per day) of the four curable STIs – chlamydia, gonorrhoea, syphilis and trichomoniasis. Prevention and control of STIs are an integral component of the comprehensive sexual and reproductive health services needed to attain the Sustainable Development Goals (SDGs) to reduce child and neonatal mortality (3.2), to end the epidemics of AIDS and other communicable diseases (3.3), to reduce non communicable diseases, and to improve mental health (3.4), sexual and reproductive health (3.7) and to achieve universal health coverage (3.8). Surveillance is a key element of the World Health Organization (WHO) STI prevention and control strategy and is an important component of second-generation surveillance systems for human immunodeficiency virus (HIV).
Global estimates of new cases of curable STIs in 2012-2018
Considering the abortion rates and the STD count it is been observed that women in their teens to early 20s are considered to be the high risk group. Some studies show that sexual contact with irregular partners are very common in young people, and the ratio of condoms use is low with regular partners and even lower with irregular partners.
Vulnerable group in women is not only young people. Women over 55 were the least likely to use condoms comparing with other age groups. Menopause is considered to be one of the reasons for not using condoms, as contraception is no longer an issue for them.
The abortion rate in 2002 is highest among women in their early 20s (20.3%), but it has also been found that women in their late 20s and 30s have rates as high as 12 to 15%. In these groups, the rate of condom use is decreased. Regarding women and HIV/AIDS, mother-to-child transmission has always been considered as a major issue in the medical or public arena while other topics have been rarely discussed. Nowadays, transmission from HIV-infected women to their infants can be reduced to 2% by provision of antiretroviral drugs, safe delivery practices and avoiding breastfeeding.
Fund Allotment to STD and Infectious diseases Research
Domestic funding is STD and infectious disease spending, by country governments in their national budgets. The Global Fund , The World Bank , The United Nations are the Key Multilateral funding Institutions Involved in STD, HIV/AIDS and other infectious diseases. Historically, the HIV response has been largely funded by international donors and governments, but low- and middle-income countries are now beginning to lead on efforts to finance their STD response. The President's Emergency Plan for AIDS Relief (PEPFAR), USA-WHO accounted for the majority of bilateral and multilateral funding from donor governments in 2017 (US$4.9 billion), followed by the United Kingdom (UK) (US$645.6 million), France (US$242.4 million), the Netherlands (US$214.2 million) and Germany (US$182 million), these five countries have accounted for roughly 80% of all HIV funding from donor governments.
Private funders The charitable and corporate philanthropic organisations provided US$680 million for global STD,HIV and AIDS programmes in 2017.The largest funders — The Bill and Melinda Gates Foundation and Gilead Sciences ViiV Healthcare, Aidsfonds, Kaiser Family Foundation and Elton John AIDS Foundation.
African Union (AU) endorses major new initiatives to end up AIDS by 2030 .The Joint United Nations Programme on STD and Infectious diseases (UNAIDS)with Abuja Declaration leads and inspires the world to achieve its shared vision of zero new HIV infections, zero discrimination and zero AIDS-related deaths. UNAIDS unites the efforts of 11 UN organizations—UNHCR, UNICEF, WFP, UNDP, UNITAID, UNFPA, UNODC, UN Women, ILO, UNESCO, WHO and the World Bank which works closely with global and national partners towards ending the STD, HIV and AIDS epidemic by 2030 as part of the Sustainable Development.
Japan International Cooperation Agency (JICA); Ministry of Foreign Affairs (MOFA); Ministry of Health; Ministry of Finance; Japan Bank for International Cooperation (JBIC); Japan International Corporation of Welfare Services (JICWELS)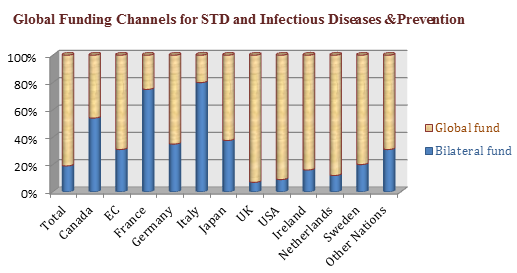 Japanese Societies associated with STD and Infectious Diseases
| | |
| --- | --- |
| The Japan Society of Medical History | The Japanese Society of Pathology |
| Japanese Association of Anatomists | The Japanese Cancer Association |
| Physiological Society of Japan | The Japanese Society of Hematology |
| The Japanese Biochemical Society | Japanese Society for Bacteriology |
| The Japanese Pharmacological Society | The Japanese Society of Parasitology |
| The Infectious Diseases Society of America | Japanese Society of Legal Medicine |
| Japanese Society for Hygiene | The Japanese Society of Health and Human Ecology |
| Japan Society of Nutrition and Food Science | The Japanese Society of Balneology, Climatology and Physical Medicine |
| The Japan Endocrine Society | The Japanese Society of Internal Medicine |
| Japan Pediatric Society | The Japanese Association for Infectious Disease |
| The Japanese Dermatological Association | The Japanese Society for Virology |
| American Society for Microbiology | Australian Society for Microbiology |
| Australian Society of Antimicrobials | Philippine Society for Microbiology |
| French Society for Microbiology | Society of Tropical Medicine and Infectious Diseases |
| Society for Applied Microbiology | American Society for Virology |
| The Japanese Society of Internal Medicine | Japanese Society for infection Prevention and control |
| The Japanese Association for Infectious Diseases | |

Major Manufacturing Companies associated with STA and Infectious Diseases in Japan
Major companies operating in the STD diagnostics arena include Roche Holdings AG, Abbott Laboratories, Becton Dickinson and Company, Hologic Inc., Danaher Corporation, Affymetrix, bioMerieux, Cepheid Inc., Alere Inc., DiaSorin, and Orasure. These companies focus on the partnership and product/technology licensing opportunities in the sexually transmitted diseases diagnostics industry. Below are the Products Manufacturing Companies for Infectious Diseases and STD in Japan
Shigematsu Co., Ltd

Shionogi

ViroQuest

ViiV Healthcare Ltd.

Otsuka Pharmaceutical

Mogi Pharmaceutical Co., Ltd.

Alfresa Holdings Corporation

Mogi Pharmaceutical Co., Ltd.

Alfresa Pharma Corporation

Wakunaga Pharmaceutical

ARKRAY

Oncolys BioPharma

BioReliance (SAFC)

IDAC Theranostics

Mochida Pharmaceutical

Nippon Kayaku
Counseling and Support Services in Japan:
TELL (Tokyo English Life Line)
Gifu AIDS Support (Telephone Counseling and Support Group in Gifu)
Japan HIV Center (Telephone Counseling and Support Group in Nagoya)
JaNP+ (Network for People with HIV/AIDS in Japan)
Life AIDS Project (Social Support for PLWHA)
HEARTY NETWORK (Gay HIV+ Support Group)
Japan Major Universities and research associated with STD and Infectious Diseases in Japan
The University of Tokyo | Yokohama City University | Keio University | Waseda University | University of Tsukuba | Chiba University Hospital | The University of Tokyo Hospital | Infectious Disease Surveillance Center, | Tohoku University | Nagoya Medical Center | Kitasato University School of Medicine | Hiroshima University | Kanazawa University | Kyoto University Infectious disease and control | NIHON University | School of Medicine, General Internal Medicine and Infectious Diseases | Kameda Medical Center | Kobe University Hospital | Shizuoka Cancer Center | The Canon Institute of Global sciences | The Japanese Society of Internal Medicine |The Japanese Association for Infectious Diseases | The Japanese Society of Laboratory Medicine | The Japanese Association for Infectious Diseases.
References :
http://aidsinfo.unaids.org/
http://www.aidsmap.com/
https://www.ilga-europe.org/
https://www.one.org/international/issues/infectious-diseases/
https://www.cdc.gov/
http://www.who.int/en
http://documents.worldbank.org/curated/en/home
http://youact.org/
http://www.emcdda.europa.eu/
https://www.eurosurveillance.org/
https://www.thelancet.com/
https://idpc.net/
https://www.hri.global/
https://reliefweb.int/
https://www.avert.org/
https://ecdc.europa.eu/en/home
https://www.hiv.gov/
https://ourworldindata.org/hiv-aids
http://www.aidsinfoonline.org/gam/libraries/aspx/home.aspx
Past Conference Report
STD Asia Pacific 2018
We had successfully hosted the "9th Asia Pacific STD and Infectious Diseases Congress" during October 21-22, 2019 at Tokyo, Japan. The conference was successful in bringing together renowned speakers from various reputed organizations and their paramount talks enlightened the gathering.
The pragmatic meet organized by our management received generous response from the academia, talented Keynote Speakers, Speakers, Young Researchers, Students & Business Delegates who attended from different parts of the world made their valuable contribution to make it a successful event. The conference was marked with the presence of eminent Speakers, Young Researchers, Students & Business Delegates driving the event into the path of success with thought provoking keynote& plenary presentations.
The Conference focused on recent developments in the fields of Sexually Transmitted and Infectious Diseases and the meeting engrossed in knowledgeable discussions on novel subjects like:
Sexually Transmitted Diseases
Viral STD
Bacterial STD Infection
Protozoan Infection and Prevention
Infertility & Birth Defects
Emerging and Re-emerging Infectious Diseases
Immunology of Infectious Diseases
Immune response
Gene Editing approaches towards HIV
Molecular method of diagnosis of STDs
HIV/STD Testing
Drug Discovery and techniques
Prevention &Treatment
Prevention of mother to child transmission
Global Market
Ebola Outbreak and Prevention
Zoonotic Diseases
Bioinformatics for Infectious diseases
Mechanism of Resistance
Database for Infectious Diseases
Infection to Cancer
We extend our heartiest thanks to all the Organizing Committee Members for their kind support rendered towards the success of STD Asia Pacific 2018. At the same time we take the opportunity to thank all the speakers, delegates and participants for providing their valuable contribution and time for STD Asia Pacific Congress 2018.
With the encouragement from the excellent feedback from the participants and supporters of Conference Series LLC Ltd is glad to announce "9th Asia Pacific STD and Infectious Diseases Congress" wil be held during October 21-22, 2019 at Tokyo Japan.
Let us meet again @ STD Asia Pacific Congress 2019
Past Reports
Gallery
To Collaborate Scientific Professionals around the World
Conference Date October 21-22, 2019
For Sponsors & Exhibitors
Useful Links
Past Conference Report